Situated at an altitude of between 1,000 to 1,900 metres, Kiyosato Kogen Heights is a resort only two hours from Tokyo yet the scenery can be mistaken as if you were in Hokkaido.
50 years ago there was a Yatsugatake climbing boom, 30 years ago there was a Kiyosato Kogen boom which brought 4 million young people a year to Kiyosato.
There are three famous resort in Japan that were discovered and developed by foreigners – Karuizawa was loved by Canadian missionary Alexander Croft Shaw, Kamikochi was introduced to the West by English missionary Walter Weston, then American missionary Dr Paul Rush developed Kiyosato for dairy farming.
The view of Mt Fuji from Seisen-ryo at 1,200 metres altitude, where a bronze statue of Dr Paul Rush is placed, is said to be the best in Japan.


There are approximately 50 pensions in Kiyosato. Pensions are mainly Western style houses, run by families, and each can accommodate between 10 and 20 people. Most of the pensions provide evening meals and breakfasts cooked by the owners in a homely atmosphere. You may get local information which is not in a guide book from your pension.
In our pension Ben and Kaori Kobayashi plus our pet goat, Anzu will welcome you.
Ben's hobbies include listening to music (his CD collection exceeds 4000 pieces), watching sports, films and playing ice hockey (not very often!).
Kaori's hobbies include playing tennis, flamenco dancing, dried flower arranging.
Anzu likes eating weeds and head butting people.



Spring arrives in Kiyosato slowly. From the beginning of May green leaves start to sprout and the beautiful spring season begins.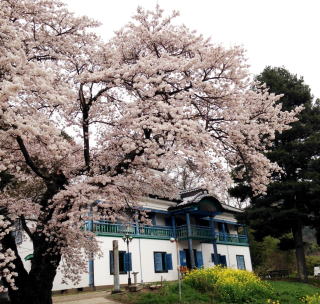 Cherry blossoms in Oishii-gakko

A three generation school site, Tsugane Gakko, in Sutama is famous for their cherry trees. Three school buildings from Meiji, Taisho and Showa period have been preserved here. In April the cherry trees bloom and attracts many tourists.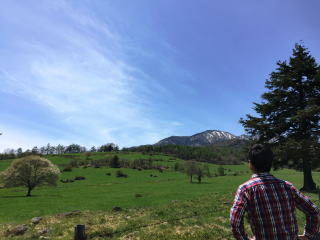 Yamanashi (the wild Japanese pear)

From the end of May to the beginning of June at the Yatsugatake Bokujo Farm yamanashi blossoms are in full bloom. Against the blue sky they look like white clouds. Along the footpath you will find konashi, wild Japanese pear-apple covered in white blossoms and may see some friendly calves across the farm fence.




Average temperature in Kiyosato in summer is 23 degrees centigrade. The rays of the sun during the day time are very strong but in the evening the air gets cold. Many people visit Kiyosato from Tokyo to avoid the summer heat.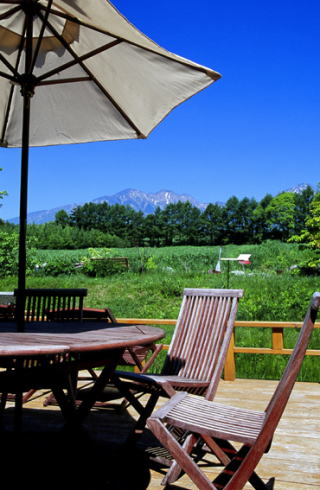 At Blue-in-Green you can enjoy a glass of beer or wine, looking at the pasture and the Yatsugatake Range beyond on our terrace.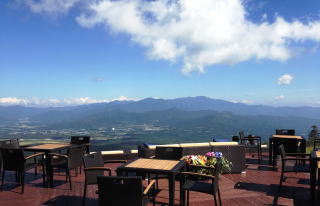 Or, why not visit Sun Meadows? A 10 minutes' drive from our pension and the ski-lift will take you to the 1,900 metre altitude Kiyosato Terrace where you can enjoy the views of the Minami Alps and Mt Fuji.





After the hustle and bustle of summer the autumn arrives to the highland in September. The clear air and changing colours of the trees will invite you to a number of events here.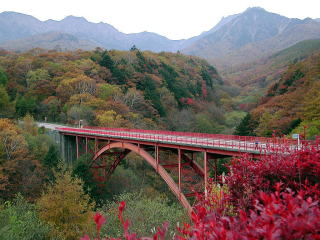 Autumn colours

From the middle of October through the beginning of November you can enjoy the autumn colours. From Higashisawa Ohashi and Kiyosato Ohashi bridges the whole mountain of vivid colours can be observed.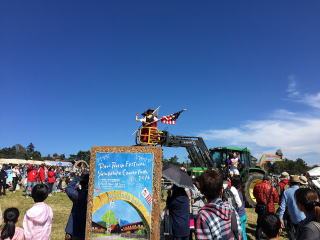 Paul Rush Festival – County Fair

Paul Rush Festival – County Fair is held at the field adjacent to the Seisen-ryo on the second Saturday and Sunday of October every year to commemorate and celebrate the works of Dr Paul Rush and to give thanks for the harvest. On the two stages live music and other performances are organised, craft fair and workshops, a number of food and drink booths will be there, run by local restaurants, hotels and shops. It is a lovely way to spend a day with local wine and beer in your hand.




The sky gets deep blue in the winter, which we call the Yatsugatake Blue. Clear air, frost columns on the ground, herds of deer and the sky filled with stars, the winter in Yatsugatake is full of special things.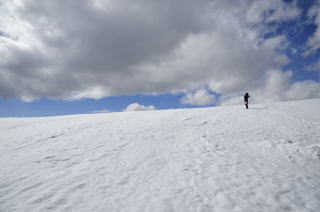 Ski and snow-shoe

After a night of snow you will see the beautiful white mountains against the Yatsugatake Blue sky. A perfect day for skiing and snow shoeing!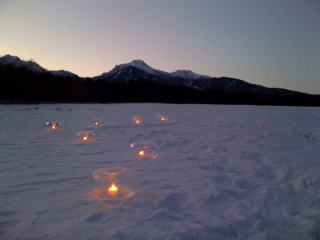 Star filled sky at night

Winter is the best season for start gazing. Thousands of stars shine as if they are falling from the sky. Let's put on warm jackets and go out and find the Milky Way!